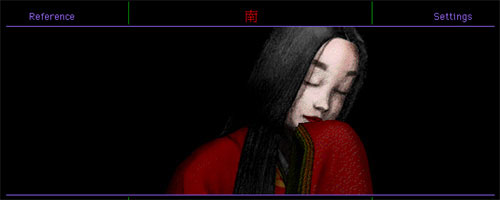 This post is (mostly) for
gracejustis
, because of this
post
..
Recently I have been playing a game called
Cosmology of Kyoto
which I discovered by chance while looking through old games on
theunderdogs.org
(one of my favorite sites).
It is truly *the* most unique and haunting games I have ever played. If it could even be called a game, it's more of an
experience
intermingled with facts (there is a vast database of Japanese history during the Heian period). You don't win, you explore. Death and reincarnation are part of the game and unavoidable. I found it very immersive and played it for hours, but this game is not for everyone. In fact I doubt many people like it, or even get it. The imagery is quite disturbing at times and takes the prize as the first game to have actually given me nightmares, but also as the first game that truly made me think on a deeper level than puzzle solving. If you download it and don't like it, please don't come back and bitch at me,
I warned you.
;) If you do like it, please tell me your thoughts.
Roger Ebert liked it. He
said
:
"The richness is almost overwhelming; there is the sense that the resources of this game are limitless and that no two players would have the same experience. I have been exploring the ancient city in spare moments for two weeks now, and doubt that I have even begun to scratch the surface. This is the most beguiling computer game I have encountered, a seamless blend of information, adventure, humor, and imagination - the gruesome side-by-side with the divine.
In this medieval Kyoto, people exist alongside ghosts, demons, and goblins. On my travels I have met - and interacted with - a dog eating entrails, long-winded old farts, tradespeople (who offered me medicines, dried fish, cloth, rice cakes, amulets, and a chance to lose money on a cock fight), a monk leading a prayer meeting, kids playing ball in the streets (one is beheaded by a passerby), a friendly guide dog, a maiden with an obscenely phallic tongue, and a gambler who taught me a dice game.
The graphics are hauntingly effective, using a wide-screen landscape format. The individual characters are drawn with vivid facial characteristics, a cross between the cartoons of medieval Japanese art and the exaggerations of modern Japanimation. The speaking voices are filled with personality, often taunting, teasing, or sexy. There is the sense, illusory but seductive, that one could wander this world indefinitely. This is a wonderful game."
Download and read another review here, on
theunderdogs.org
. (133MB)